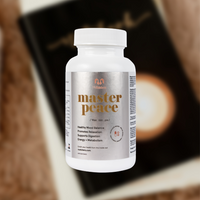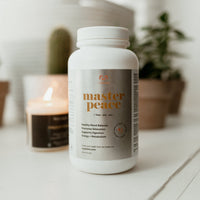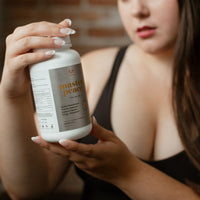 MasterPeace- Mood Formula
Welcome peace and healthy mood balance with a solution containing all the ingredients you need to settle down, relax, and get the rest you deserve! MasterPeace is a doctor-recommended daily mood, relaxation, and digestive aid that will help you wind down. With an effective blend of stress-tested ingredients, you can find your ultimate Zen.
NUsisters™ relaxtion & digestive supplement relieves stress with the power combo of 5-HTP, GABA, and magnesium. MasterPeace improves your sleep, energy, and metabolism with added B vitamins. 
Health Canada Licensed NPN #80112480.
Promote Mood Balance and Regulation.
Enhance Relaxation.
Boost Serotonin Production.
Decrease Sleep Irregularities.
Increase Energy Metabolism.
Ease Digestion.
Ease Nervous Tension.
Improve Cognitive Function. Decrease Rumination and Worry.
Take 1 capsule two times a day.
Per Capsule:
Betaine Hydrochloride (90 mg), GABA (75 mg), L-5-HTP (150 mg), Magnesium (50 mg), Niacin (25 mg), Thiamine (25 mg), Vitamin B6 (25 mg)
An All-Natural Daily Mood, Relaxation and Digestive Aid.
MasterPeace
What To Expect
A serene supplement that lets your mind focus on bringing peace in so you can peace out. Clinically proven ingredients like magnesium will relieve your body of daily tension by soothing stiff muscles and nerves to maximize comfort and allow for real rest.
No more sleep irregularities! Power down peacefully by defeating nighttime stress with this sleep and digestive aid formulated to enrich your inner and outer health.

GABA, an inhibitory neurotransmitter, temporarily induces relaxation by blocking mental distractions like excitatory nerve impulses to help you wind
down and replenish your energy levels.
Calm chaos internally by finding harmony through an original blend of ingredients that regulate your mood and support inner peace.
5HTP increases serotonin production in the brain to stabilize positive moods, prevent depression and anxiety, and maintain a healthy attitude.
Experience the power you need to live life freely and happily! Our powerful pills contain Vitamin B6, which acts as a serotonin booster! Vitamin B6 is vital for synthesizing various neurotransmitters and will replenish your brain's strength to function physically at full speed every day!
The NuSisters Promise
We fully stand behind our products. If you are unhappy with your item we will happily issue you a refund or replacement!